Customer Loyalty and Rewards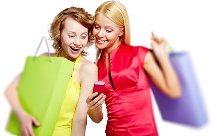 One of the many differences between Daily Deal Pros and other daily deal software providers is our customer loyalty and rewards software.  Our proprietary software is unique, and we can happily state that we believe we're the only ones that have this type of tool with as many features available for daily deal publishers.  This software is not only extremely sophisticated, but it's simple to use and highly intuitive.
We say it's sophisticated because we can track without a doubt, how much customers have spent that purchased daily deals on our platforms.  We can even track all subsequent visits to your merchant partner's stores and supply detailed analytics and reporting based on the spending habits of those customers.  This is important because now your merchant partner can make intelligent business decisions based on the actions of their customer base.  It not only will track each and every customer who purchases a daily deal, but the merchant business owners can integrate the loyalty and rewards software into their existing customer base.
It's intuitive because of its extreme ease of use.  Simple actions can be completed by any clerk that sets the ground work for our important tools to produce the valuable information that merchants demand.
We've even gone as far to create web services or APIs for all functions on our loyalty and rewards platform.  This enables the merchant to not only use the web interface that we provide, but to integrate our platform into their existing website, POS system, application or any other internet enabled device that they choose.